Our mosquito nets are a bit smarter than conventional ones. Unfortunately, they can not hang themselves yet. Here are a few suggestions for installation.
But again, practice is the master.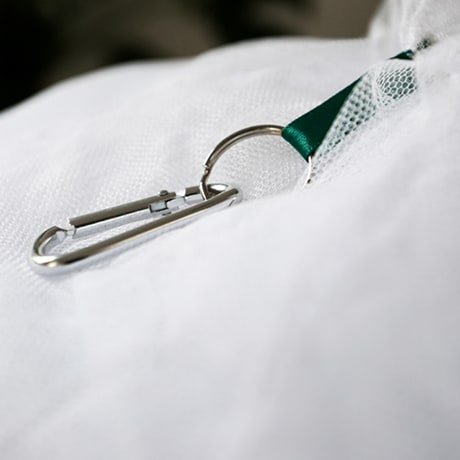 The pyramid-shaped GlisGlis Mosquito Net is easy to hang up. One hook at the room ceiling is enough to connect with the included carabiner. If no hook is available tighten a string across the room and connect with the carabiner.
The cube-shaped GlisGlis Mosquito Net has 6 loops at the top. You should use at least 4 of them to get a working shape of the mosquito net.
For attachment, everything can be used here, which is offered in the room. A hook, a curtain rod or a lamp offer optimal possibility, as the weight is evenly distributed on all corners.
If none of this is present, we recommend knotting each of the ends of the string into a loop and attach them with a piece of tape to e.g. stick to a cabinet or wall.
Sounds adventurous, but works well.
Attach on the mattress
Stretch the lower end of the net with the expander like a fitted sheet over the mattress until the mosquito net is tight and tight.
When entering and exiting, always make sure that the zipper is completely closed immediately, so that no
insect can enter the interior.
The side zips should be approximately at shoulder height left and right. Then a comfortable grab for e.g. the bedside lamp or remote control is guaranteed.
Attention when entering and exiting the mosquito net. In the dark one likes to stumble.
How to wrap and pack
The cube-shaped mosquito net can be folded up like a blanket and easily
stowed away in the bag again.
The pyramid-shaped mosquito net has a flexible clamping ring. This has to be turned in opposite directions with both hands. Much like wringing a wet towel. As a result, the clamping ring works together.
The mesh will then wrap around the twisted tension ring wound.